Dissecting A Play: Bernd Leno Learning Curve (AFC vs LFC 11/3/18)
Arsenal hosted Liverpool at the Emirates over the weekend in an eventual 1-1 draw that saw both sides playing quite well and continuing their recent success. For Arsenal and new manager Unai Emery, their unbeaten streak is now at 14 games and the team continues to grow into his vision of an organized, disciplined units with a high work-rate press and focus on building out of the back.
There were positives to take away for each side but I'll be focusing on the continued development of Arsenal goalkeeper Bernd Leno, using a mix of both negatives and positives that highlight his ongoing learning curve. The negatives are key learning tools and the positives are key reinforcement, both integral to his continued growth as the long-term #1 at Arsenal Football Club.
Lets start with three negatives:
1 – The first came near the end of the first half with a ball played into the box off a set-piece. Leno charged off his line, misread the flight path of the ball and found himself in no man's land, unable to influence the ball or attacker in the area: Fortunately for him, Liverpool center back Virgil Van Dijk's (VVD) header was just wide and trickled into the far post to be promptly cleared away by the omnipresent Lucas Torreira (who was rightfully awarded man of the match honors).
Lets take a closer look at the play with two still frames. The first is an initial look at the play with the ball in the air, Leno is at his six yard box and the ball is coming into the danger zone:
Leno commits to making a play on the ball and comes off his line.  It's a tough play to make because he has to gauge depth and distance of a ball coming from far away, with multiple options in the box rushing towards him. Whether he should have committed in the first place is up for debate.  With this many variables in play, I prefer to have the keeper play it conservatively and not tilt the sequence towards risk.
Regardless, those multiple variables fooled Leno as he initially read the ball as landing deeper and had to re-route towards VVD:
His two missteps cost him valuable time and he was unable to make a play on the ball or man, resulting in that open net glancing header.
To be fair, even top rated keepers will make these mistakes.  Liverpool goalkeeper Alisson made a similar misjudgement earlier in the game – in the 16th minute –  when he came off his line to try and catch a cross directed toward Arsenal's Henrikh Mkhitaryan and was woefully late….with the ball going just inches wide:
The major difference between Leno and Allison's mistake is that the latter came in open play where there are rapidly moving pieces and the calculations have to take place quicker (and thus are prone to more error).
2 – Speaking of open play, the second play came in the 61st minute when Liverpool forward Sadio Mane sprung down the far side and centered the ball towards net. Leno was unable to catch or punch the ball, with it ricocheting meekly off Arsenal center back Rob Holding (who had a tremendous game) and into the path of Liverpool midfielder James Milner who calmly slotted home the opening goal: In this situation, Leno has to decide whether he can catch the ball cleanly or not. If he can't, he has to punch the ball out. He decided that the ball was within his catch radius, but that wasn't the case:
My best guess is that Leno underestimated the pace and tailing swerve on the cross which only allowed him to get part of his hands on the ball.  Like the first play, this is another risk/reward situation where his judgement resulted in high risk. In this case, that risk was cashed in by Milner.  All that being said, as I alluded to with Allison, this is not an easy decision for any keeper because of how quickly these calculations are taking place. Life comes at you fast.
3 – The third play was again late in the first half, with Leno trying to roll the ball out quickly to Arsenal midfielder Granit Xhaka and get Arsenal started on a potential counter situation. This  resulted in Xhaka playing the ball out of bounds and Liverpool maintaining deep pressure: Xhaka can certainly do better here but Leno put him into a tough situation with three Liverpool players around him and not many options. You can even see an Arsenal player, I believe it's center back Shkodran Mustafi, yelling at Leno to pass the ball to left back Hector Bellerin instead. Xhaka is forced to make a quick decision under pressure (not his strongest suit) and he played the wildly inaccurate pass to the sideline.
Bernd Leno will certainly learn from each of these mistakes but he also made some great plays that will continue to reinforce his progress. Two in particular jumped out for me:
1 – In the 23rd minute, Liverpool dynamo Mohammed Salah (whose slow start but returning form I wrote about here for This Is Anfield) played a great ball into the box to VVD that dissected the Arsenal backline. Leno stayed composed, instantly recognized the situation, and stepped up while making himself big to close down the angle: This is a tremendous read and reaction by Leno to make the best of a bad situation and force VVD to speed up his own decision-making.  The second play also involves great react and technique…
2 – Leno kept Arsenal in the hunt and bailed out a complete corner kick set-piece blunder by his defense in the 74th minute when he made a great reaction save to tip over an unmarked header by VVD and keep Arsenal's deficit at one (great camera work here): The technique and reaction by Leno is superb.  Watch how he tracks the ball, recognizes the free header, and then does a little mini-jump to set his body and not be flat footed so he can quickly jump towards the ball's flight path.  I call this "pre-tensioning", it's like a stretching a spring to increase recoil speed – in this case, Leno's achilles tendon, quads, and entire posterior chain passively recoil to quickly jump upwards.
Leno has shown these great reaction instincts ever since he stepped in for Arsenal goalkeeper Petr Cech due to hamstring injury (to read more about that, I wrote about it here). In fact, Leno's first English Premier League (EPL) save was an exquisite hand-reaction save against Watford: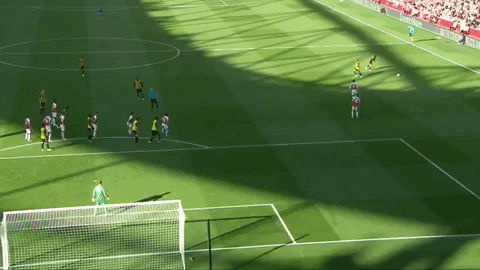 All in all
This game against Liverpool was a great learning experience for Bernd Leno, with mistakes to learn from and positive plays to reinforce his development. He played quite well considering he's only started nine first team games for Arsenal, and further he a got a taste of the high stress, high intensity atmosphere that comes along with these types of big games. Invaluable experience.
It's all part of the process for Leno and the fact that the Gunners were able to level the game through a stunning strike by Arsenal #9 Alexander Lacazette (or Lagachette, "the trigger", as Lyon fans dubbed him) in the 82nd minute and earn a draw is another key step in building the chemistry and camaraderie that is requisite for top teams.
Thanks for reading and until next time. If you liked the piece, subscribe to the email list on the sidebar, join our facebook group, and follow us on twitter or IG to never miss an update.