Dissecting A Play: Nacho Monreal's Great Run & Centering Ball to Unlock Fulham
In this past weekend's Arsenal-Fulham match, there was one play in particular that stood out as a great teaching tool for fullbacks everywhere and a great candidate for this week's Dissecting A Play – Nacho Monreal's run down the left flank and precise centering ball during the build-up of the Arsenal's opening goal.
The play began with a ball over the top towards Arsenal's #9, Lacazette, who's the middle trident of Arsenal's front three (with Iwobi #17 to his left and Welbeck to his right) with Mkhitarian (red square) tucking in behind.  Fulham was playing a 3-4-2-1 formation with two wingbacks (Christie and Sessegnon) pushing up the field and you can see the risk already:
Lacazette has real gravity here as he pulls in 2/3's of Fulham's backline.  And the danger (yellow alert) really begins when the contested header drops to Mkhi who immediately recognizes a 4 v 3 numbers advantage and plays the ball back to Lacazette:
Fulham has numbers back in the middle of the pitch especially with a midfielder rushing back in haste but look at that space out wide for Iwobi.  To make matters worse their CM #29, Anguissa, is ball watching and in no hurry to close down that space.
The ball is played out wide and then the fun really begins:
Iwobi recieves the ball in acres of space, Anguissa is still chillin, but look who's not chillin – Nacho Monreal. He knows that although Iwobi is in a favorable position, he can turn an orange alert situation into a red alert situation by getting goal side of Fulham's RWB Christie and making an overlapping run.  Whoever wins that race is going to tilt the situation heavily in their team's favor.
Guess who wins: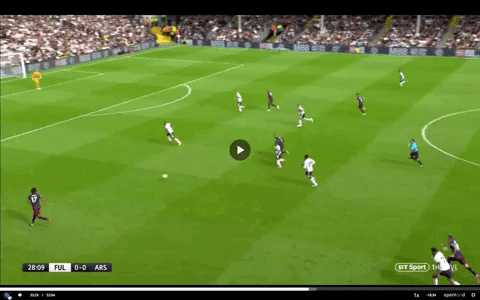 Monreal makes a beeline for the end line leaving Christie in his dust (who, along with the still meandering Anguissa, both ask for offsides. Funny how that works) and runs off the back shoulder of Iwobi who astutely drags his run inside and lays the ball off with great timing, putting Fulham into a very dangerous red alert situation:
Yes, Monreal has read the developing play extremely well and made a tremendous run "full of desire" as the announcer put it, but all is not done yet.  He still has to pick out a target and make a centering pass. And what a pass it is:
On the full run and after having just sprinted half the pitch, Monreal precisely slots the ball to Lacazette's outside foot and past the lunging defender on his inside shoulder.  Lacazette calmly kills the ball with his left foot and here's the result:
A clinical finish created by Monreal's run & subsequent centering pass that combined effective decision-making & quick reading of the play with great desire, endurance, composure, and skilled precision.  An excellent example and lesson for any fullback who is learning how to pick their spots in attack and trying to gain an understanding of the mental and physical attributes it takes to play at the highest level.  Bravo to Nacho Monreal.  On the other hand, there are multiple goats for Fulham on this play, in particular Anguissa for his poor recognition and work rate.
Plays like this showcase my favorite part of football – a constant challenge of decision-making and risk/reward calculus. Players have to constantly assess information around them, process it, and then make risk/reward decisions.  These decisions create a domino effect, tilting that play in favor of one side or the other.  In this case, Nacho's run tilted that sequence completely in Arsenal's favor.
Thanks for reading and until next time.  if you liked the piece, subscribe to the email list on the sidebar, join our facebook group, and follow us on twitter or IG to never miss an update.